For many years COVIFRUIT has developed a range of
fruit juices
produced overwhelmingly with apples and pears from the Orléans region. The recipes are the result of decades of experience. The fruits are produced by arboriculturists in the Center Val de Loire Region, who essentially also supply Williams pears for our
Olivet pear brandy
.
All products are 100% pure juice, that is to say we do not add sugar, water or preservatives. The juice is simply the result of pressing which keeps the authentic and subtle flavors of the fruit.
For pressing we call on the know-how of Bastien DEBRUYN, craftsman and manager of Vergers de la Manse, member of the Culinary College of France, based in Sepmes in Indre et Loire (37).
Pressing, apples, pears, all come from our Center Loire Valley Region.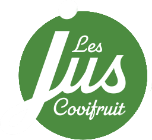 Discover More about Vergers de la Manse
Taste all the flavors of Covifruit Juices :
The fruits are rigorously selected and assembled according to different recipes to offer a variety of sensations:
Apple Juice: subtle blend of Golden apple, two-tone apples and Granny apples that bring a touch of acidity.
Williams Pear Juice: the queen of pears in juice. You will have the impression of crunching the fruit with smoothness.
Want to discover Covifruit juices?
Pear juice: balanced mixture of several varieties. You will find the characteristic grain of the pear.
Apple Cherry juice: it will attract you with its intense translucent red color. The subtlety of the cherry will be present on the palate and will touch a slight note of acidity.
Quince Apple juice: the latest addition to the Covifruit family of juices. The rich and characteristic aromas of quince are present without taking over. This is a product that will surely delight you!
Apple Grape juice: a subtle blend of two fruits that have character, the apple will give way to delicate notes of grapes while providing a slight acidity essential to the balance of the mixture.